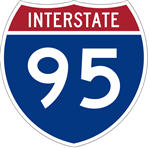 Interstate 95 is the only major highway through St. Augustine, however it doesn't pass close to the historic district.
Instead, visitors must exit at SR 16 and travel about 5 miles east on that road to reach the historic district.
Alternatively, visitors may take SR 207 until it intersects U.S. 1, following U.S. 1 to the historic district. U.S. Route 1 and SR A1A are the main roads into the historic district. U.S. Route 1, commonly called Ponce De Leon Blvd or simply U.S. 1, snugs the east side of town while a local road branches off of it and runs directly into the heart of the historic district and the Bridge of Lions.
A1A intersects the local road a mile south from the north end of it. From there, the road is double signed as A1A/Business U.S. 1 and named San Marco Blvd until the Bridge of Lions where A1A crosses over to Anastasia Island. What Business U.S. 1 becomes after that is vague. Signs take it through the streets of the historic district where it is assumed to end back at U.S. 1, however signs don't show it going that far. SR 312 mainly serves the business district on the southern end of town, and is also an other connection to Anastasia Island. SR 207 lies just south of the historic district. SR 207 connects St. Augustine with the farming communities of Hastings and Palatka.