Travelodge & Suites – Keystone Motel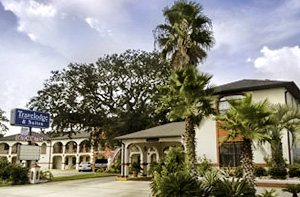 Welcome to Travelodge & Suites -Keystone Motel. We are located 1 mile from the historic district in a quiet and safe neighborhood. We offer a family oriented atmosphere for our leisure and business guests, featuring large, clean and comfortable rooms.
Our motel has earned the Sleepy Bear Honor Roll Award for 2 years. We offer many amenities for our guests comfort through various types of rooms. We have jacuzzi suites decorated for special occasions. Perfect for Weddings, Anniversaries and birthdays. We have cottages with private patios – decorated with lights and patio furniture.
We have suites with King size beds and living room with sofa/recliner. Suites are equipped with micro-fridge for guests' convenience. We also have efficiency rooms including kitchenettes (stove and microwave). We are proud to offer 2 bedroom apartment with Queen size beds, large furnished living room and 60″TV. This has 800 sq. ft Slide door to private patio.

View Larger Map

Travelodge Suites
St Augustine Old Town

290 San Marco Ave
St. Augustine, Florida 32084
+1 (904) 829-3850

Photo Tour