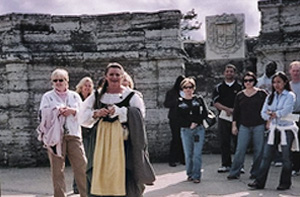 A History Entertainment Company in The Nations Oldest City
The goal of City Gate Productions, the premier history entertainment company in the area, is to bring the history of St. Augustine and North Florida to life through entertaining performances. For the past ten years we have been providing costumed characters, customized tours, dramatizations and first person interpretations of Florida's most colorful personalities and incidents. City Gate Productions guides are history, theatre and story telling experts who continue to study North Florida's little known, and quirky, past.
The combination history degrees and theatrical training our guides hold allow us to accurately impart each century's elusive detail of discovery,murder, power, scandal, love and deceit in a spellbinding "you-are-there" sort of way. It is our wish that guests to this North Florida location be entertained and enlightened while they are being cared for by the most experienced and talented guides in Florida.
City Gate Productions is known for customizing tours, events, receptions, and so forth, it's what we like doing best. Bring us your ideas, thoughts, and needs and we will create something specific and wonderful just for you!
Walking Tours
Step-on Tours
Theatre