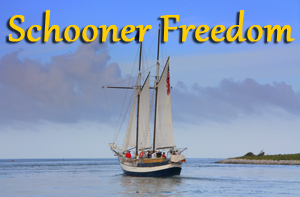 Freedom is an authentic replica of a 19th century blockade runner. She is a 72′, double masted, gaff-rigged, topsail schooner. She was built in Norfolk, VA in 1982 by famed Naval architect Merritt Walters, the first of his many Rover schooners.
The Freedom was the first sailing tour boat to be certified under the Coast Guard sub-chapter 'T' to carry passengers to hire. Freedom is frequently inspected by the USCG and carries all of the equipment necessary to ensure a safe and fun outing.
 ~Day Sail~
Kick back, relax and soak up the sun, or get salty by helping the crew to set sail!  Bring a pair of binoculars and look for dolphins, manatees, and birds, or take the helm for an unforgettable sailing experience.  Reservations are highly recommended. Length of sail: 2 hours. Departure Time: 12:15 pm.
~Evening Sail~
View St. Augustine's historic charms from a unique perspective.  Watch the sun set behind our beautiful city, and then enjoy the beauty of the St. Augustine skyline outlined with moonlight. Music, wind in the sails, and the sunset-drenched landscape provide a perfect end to your day on the town or the perfect beginning to your night.