The Platters, The Coasters, The Drifters and The Temptations Salute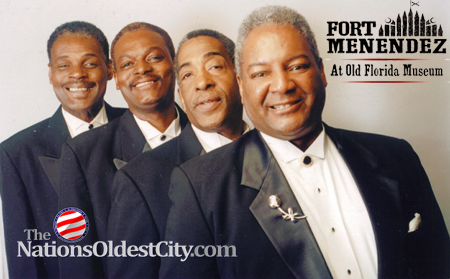 starring
Myles Savage
, star lead singer from
The Platters
and
Ira Greig
, star lead singer from
Beary Hobb's Drifters
.
Come and hear the many great Rock 'n' Roll Hall of Fame hits kept famous by THE original STARS. You will not want to miss their authentic performances of hits such as "Only You", "Smoke Gets In Your Eyes", "The Great Pretender", "Poison Ivy", "Charlie Brown", "Love Potion # 9", "My Girl", "Up on The Roof", "Under The Boardwalk, "Shout", and many, many more. We look forward to bringing you a fantastic, romantic show of world class entertainment.
Opening Night: Friday, December 17 at 7:00 pm
Showtimes: Fridays 7:00 pm
Saturdays 3:00 pm and 7:00 pm
Sundays 3:00 pm and 7:00 pm
Special performances are being offered daily Sunday December 26 through Sunday January 2 – shows at 3:00 pm and 7:00 pm each day that week!
Seating is limited, so reservations are required – call 904-824-8874 to purchase your tickets now!
Ticket prices: $40.00 per person
Visa and MasterCard accepted for phone purchases, or purchase in person at the Old Florida Museum gift shop at 259 San Marco Avenue in St. Augustine, FL, open daily 9:00 – 5:00.
BUY ONE GET ONE FREE OFFER
This special free ticket offer by the Old Florida Museum only, is given as a limited "early bird special." When you purchase one ticket for $40.00, the Old Florida Museum will give you a second ticket absolutely free. This free ticket offer is given on a first come, first served basis as long as seats are available.
Call 904-824-8874 for details and to purchase your tickets now.