The Ponce de Leon Hotel in St. Augustine, FL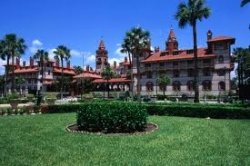 The first of Henry Flagler's three great hotels, the Ponce de Leon, was adapted for use as an institution of higher learning in 1971. As Flagler College, it expanded to embrace a student body of some 1,700 by the end of the century, offering a traditional four-year arts and science degree program. The second of his hotels, the Alcazar, has since 1948 contained the Lightner Museum, (and in 1973 the City of St. Augustine municipal offices). The third Flagler hotel, originally called the Casa Monica, stood vacant for thirty-five years before St. Johns County converted it for use a county courthouse in 1965. In 1999, under private ownership, the building was restored to its original function, and is now the only one of Flagler's three great hotels still serving that purpose.
Natural beauty, outstanding service and attractive facilities all come together in a secluded tropical setting at Ponce de Leon Hotel. The hotel is conveniently located near downtown St Augustine's shopping, dining and beach combing. The upscale resort offers packages for golf, corporate groups and families.
Check it out here:
https://www.theponcestaugustine.com/