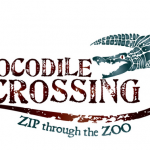 Visitors can discover their inner Indiana Jones traversing this fun and challenging zip line above the canopy of trees and swamps that are home to hundreds of alligators and crocodiles at the
St. Augustine Alligator Farm Zoological Park.
It is an obstacle course with more than 50 different challenges, including 7 zips over the zoo!
It is the first challenge course in the world over a zoo!
It is your chance to get a birds-eye-view above crocodiles, caiman, alligators, and more. You will even be at eye level with our toucans and hornbills.
Cost:
Special new offer for Crocodile Crossing. We are so sure you are going to LOVE the new ropes course and zip lines at the St. Augustine Alligator Farm we are offering an special new introductory offer. Try our low Sepic River Course for $25.00! You will zip over hornbills, crocodiles, and more! Then once you love that, you can upgrade to the higher, more challenging Nile River course for an additional $40.00. This course is only for the adventurous. It will take you much higher, with faster zip lines, including gliding right over our Lemurs and the Alligator Lagoon! See the map below.
Minimum height: 57 inches
Minimum age 10 years old
Appropriate foot wear and ID required.
Maximum weight: 250 lbs for the standard harness
Time to complete the course: 1 – 1.75 hours
Call now for reservations!
Contact Crocodile Crossing: zipmanager@alligatorfarm.com
or zipstore@alligatorfarm.com or (904) 824-3337 ext 33