St. Augustine Air Show Memorial Day Weekend
The St. Augustine Airshow will be held Memorial Day Weekend, 2011.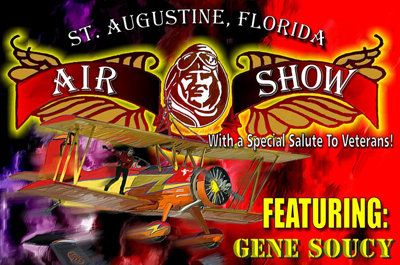 This two day event (held on May 28 and May 29, 2011) will continue in the tradition of air shows at the
Northeast Florida Regional Airport
in
St. Augustine
. This tradition dates back to 1967. The event will honor our military with a special "Salute to Veterans" past and present. The airshow promises to provide entertainment for the whole family.
"The event will be spectacular," states Craig Fordem, President of St. Augustine Air Shows. "There will be performances by world-reknown aerobatic pilots as well as many outstanding military exhibits and static displays. We are planning events for the whole family that recognizes and supports the contributions made by our veterans. This will be a celebration of the true spirit of Memorial Day!
Located a short drive south of Jacksonville, Florida, St. Augustine is a city of charming restaurants, shops and
B&B's
, a centuries-old fort, and horse-drawn carriages. With forty-two miles of pristine Atlantic beaches, it is a woderful destination for a romantic getaway or gathering of friends and family while enjoying the unparalleled beauty, architecture, heritage and culture.
Ticket prices will be $10 per day for adults and $5 a day for children over 5 years age.