Sheriff's Ghost Walk Tours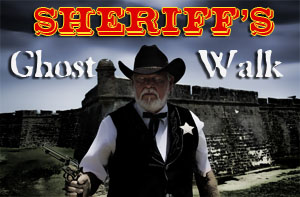 Sheriff's Ghost Walk Tours
A Ghostly Adventure you will never forget. A 90 Minute Walk Along The Dark Streets And Cemeteries Of Old St. Augustine.
You Will Hear Bone Chilling Tales That Have Lived For More Than 400 Years!
he Sheriffs Ghost Walk Tours is a unique experience. The Sheriff and all of his dead deputies are experienced guides. You will hear stories of Haunted Houses, Bed & Breakfasts and The Old Cemeteries! You will walk the dark streets of the nations oldest city of Saint Augustine, Florida. All stories told are so rich in detail they will tingle your spine!
All our tours are researched for historical facts. Come see why Sheriff's Ghost Walk Tours are the most original and historically correct ghost tours in Saint Augustine, FL.
Beware…Not For The Weak At Heart,
JOIN US IF YOU DARE!
Link to Web: http://sheriffsghostwalktours.com/

View Larger Map

Sheriff's Ghost Walk Tours

18 St George Street

St. Augustine, FL 32084

+1 (904) 540-0031