El Galeón Returns to St. Augustine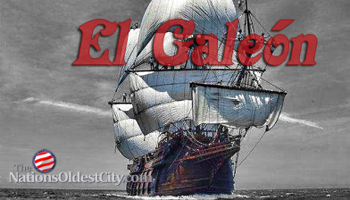 The 16th century replica Spanish merchant ship, El Galeón has returned to St. Augustine and is available for tours through April 12.
During a period longer than three centuries (16th to 18th), Galleons were the ships that took the lead role in the trade and cultural routes named the Indies fleets. These were the longest routes in length and also lasted longer than any other in navigation history.
El Galeón was built during 2009 to 2010 by the Nao Victoria Foundation. Designed and developed by Ignacio Fernández Vial at the Punta Umbria shipyard (Huelva, Spain), the ship was launched on November 30th, 2009 and the masts were added at the beginning of 2010.
The ship has been docked and open for tours in St. Augustine several times in recent years, including during St. Augustine's 450th Birthday celebrations.
Currently docked at the St. Augustine Municipal Marina, El Galeón will be open for tours daily from
10 a.m. to 7 p.m.
through April 12. Tickets to tour the ship are $12 for adults and $6 for children 5 – 12. Local discount prices are available. Tickets can be purchased at the dock and online
www.fundacionnaovictoria.org
.