Valentine's Day in St. Augustine, FL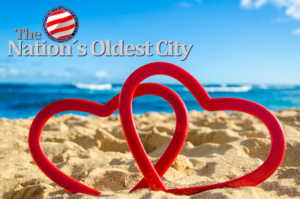 Spend Valentine's Day in Romantic St. Augustine, Florida
St. Augustine is one of the most romantic city's in the south and if you haven't made plans for St. Valentine's Day, then maybe a few days away from it all would be the perfect romantic idea.
Whether you'd like to make sightseeing memories or relax in a comfortable hotel or bed and breakfast, you'll have a Valentine's Day to remember in St. Augustine.
For the cozy and romantic atmosphere many seek, consider one of St. Augustine's, Bed & breakfast
Old City House Inn.
Or if you are looking for the ultimate hotel getaway that has a great location in historical district, then consider Quality Inn Historic.
Romance is in the air in St. Augustine and one of the best things we recommend for Valentine's Day is a carriage ride & tour through the Historic District or St. Augustine. Go back in time and relax, snuggle and enjoy seeing the history of Nation's Oldest City.
Need something for your guest, friends or family to do on Valentine's day?
A Ghostly Encounter
professional Guides will take you through the Old City visiting some of their favorite haunts. Tour begin in the Love Tree Cottage and then stroll the darken streets hearing stories of the long deceased residents who have not moved on, visiting (2) two cemeteries along the way and ending in the tour at the World Famous Love Tree to hear the legend of eternal love.
This is the only ghost tour in town that takes you into a Haunted building. For rates and more information, visit
www.StAugustineGhosttours.net
or call (904) 827-0807
The Perfect Dinner…
A wonderful fine dining experience is in order for this special day in St. Augustine, Florida. Many fine dining establishments would be the perfect setting for celebrating your Valentine's Day together or a lifetime of commitment!
Local restaurants such as
Old City House Restaurant
would be excellent choices. Make Your Valentine's Dinner reservations Today ! Call 904-826-0113 or see VALENTINES DAY MENU.
Approximately 141 million Valentine's Day cards are exchanged annually, making Valentine's Day the second most popular card-sending holiday after Christmas.
Valentine's Day — History
Saint Valentine's Day, commonly shortened to Valentine's Day, is an annual commemoration held on February 14 celebrating love and affection between intimate companions. The day is named after one or more early Christian martyrsnamed Valentine and was established by Pope Gelasius I in 500 AD. It was deleted from the Roman calendar of saints in 1969 by Pope Paul VI, but its religious observance is still permitted. It is traditionally a day on which lovers express their love for each other by presenting flowers, offering confectionery, and sending greeting cards (known as "valentines"). The day first became associated with romantic love in the circle of Geoffrey Chaucer in the High Middle Ages, when the tradition of courtly loveflourished.
Throughout the weekend, visitors and residents can enjoy plenty of romantic events and special tastings as they celebrate Valentine's Day.